Skateboarding is entering the Olympics in 2020 and athletes around the world will have the chance of bringing home a gold medal through their impressive skills and abilities honed in struggle and dedication. Becoming a Pro Skater is a legitimate career with prospects and achievements, sponsors and branding.
Jonah Hill, in his directorial debut, decided to create a film that displays a mid point in the sport's evolution. In the Early 80s, riding on a board with wheels was considered a novelty, still directly related to surfing, but in the Mid 90s, Skateboarding emerged as a powerful culture embraced by millions of teenagers in their quest for identity amidst a confusing society of voracious yuppies that ignored its progeny in favor of their own satisfaction.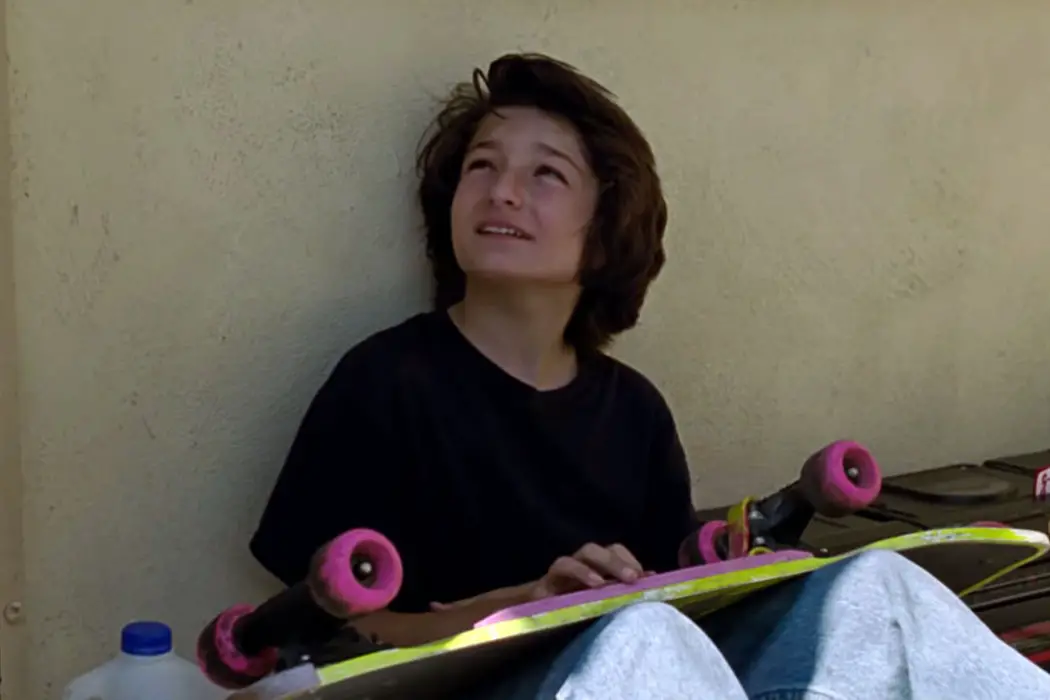 The coming-of-age film follows Stevie's quest for acceptance in colorful 90s California, a kid that gets beaten by his older brother constantly and, not satisfied, beats itself as well. Guilt through punishment, atonement through pain is pretty much this kid's way of life until he comes across a fellowship of skaters that shows him a new path.
Gathered around a Skate Shop filled with clothing and apparel, these kids spend most of their day improving their abilities and shooting the shit out of various topics peppered with the edgy humor of the nineties, mostly demonstrated by the lines of best boy Fuckshit, a shaggy haired dude that does its best to be the most outlandish one and has no prospects other than living life to the fullest, no matter the cost.
Fuckshit is a talented rider that is more infatuated with the counterculture of Skateboarding than the actual evolution that athletes strive for constantly, in turn displayed by his best friend Ray, one who takes the goal of turning into a Professional quite seriously.
Stevie is entranced with the sport and gets his older brother's board to practice in his garage. After falling many times, getting up just as many, he finally works up to the courage to show up at the shop and becomes part of the group after buying a board from the youngest in the crew, Ruben, an angry kid that represents aspects of the culture that stem from the resentment and abandon of a tough upbringing. Alongside aspiring cinematographer Fourth Grade who chronicles their adventures in his trusty Handycam, they form up a crew that starts hitting local spots to push through their limits together.
What follows is a journey of evolution through trial and error, as they often throw caution out the window in order to succeed over physics, society and themselves. Mid90s also displays insights into the persecution that young skaters faced from law enforcement, their culture marginalized by the same society that now looks to reward its achievements with Olympic medals and Nike deals.
Most interestingly, the dichotomy of Fuckshit and Ray represents the conflict between party and athletics that many aspiring young skaters face, which molds the character of "Sunburn" Stevie, a kid who can definitely take a hit and keep struggling.
This is an aesthetically pleasing film, especially for those who lived through those times. Mid90s also presents an amazing Soundtrack with classics from the era featuring songs from the Wu-Tang Clan, the mighty Souls of Mischief, A Tribe Called Quest, Cypress Hill and many others, as well as an original score created by the legends Trent Reznor and Atticus Ross.
Finally, like this review, it ends abruptly, leaving this particular viewer wanting more: a sequel, an extended version, a series or anything like it.