Right on the week of Pokémon Let's Go's release, Ryan Reynolds, who is playing the titular character on the upcoming feature film Detective Pikachu, has released the trailer for the first live-action Pokémon rendition to hit screens.
And it's INSANE.
Featuring a cyberpunk creature filled universe with hyper-realistic depictions of popular characters, Detective Pikachu presents a story based on the game of the same name, as Tim Goodman, a random kid played by Justice Smith gets involved in solving a mystery about his missing father(is he called Saul?) with the help of the cute furry monster that speaks like Deadpool.
Does this look to be the beginning of a Pokémon Cinematic Universe? I've always thought a live action rendition of the franchise is a bold move, maybe even a stupid one, but this looks hilariously good, like this Mr. Mime that looks like it will steal your soul:
Or the classic Jigglypuff with this signature marker:
Some dinosaur-like hydroponic growers:
King of Migraines, himself:
And my personal favorite, Charizard, doing his thing: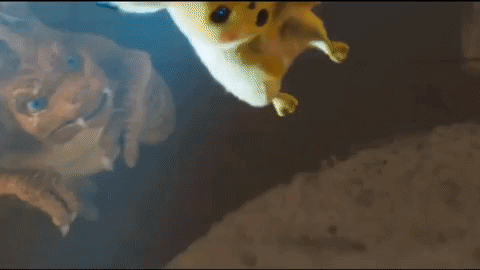 Still, I wished a different Reynolds would be providing the voice:
Detective Pikachu releases on May 9, 2019.